The Dangers of Disrupted Business Continuity
If you're a business owner who uses any form of technology in your daily operations, downtime can be costly. Even just one hour without access to digital client records, software applications, and automated processes creates a ripple effect. This results in lost sales and delays in your delivery and operations schedule.
Companies that have experienced debilitating disruptions in the past know the frustrations associated with downtime. Firms that have never felt the impact of disasters themselves should still understand the importance of maintaining operational efficiency during potential incidents.
Given the current economic landscape, some organizations simply cannot afford to experience prolonged periods of downtime. Such situations can result in lost productivity and revenue and damaged relationships with consumers and clients if services are unavailable for days or even weeks.
Although firms can use on-site data backups like hard drives, disks and tapes to protect mission-critical data, these devices can be damaged or destroyed during on-site disasters. Cloud backup, on the other hand, is a cost-effective technology that is scalable and employed through the internet, allowing staff members to remain productive regardless of the circumstances.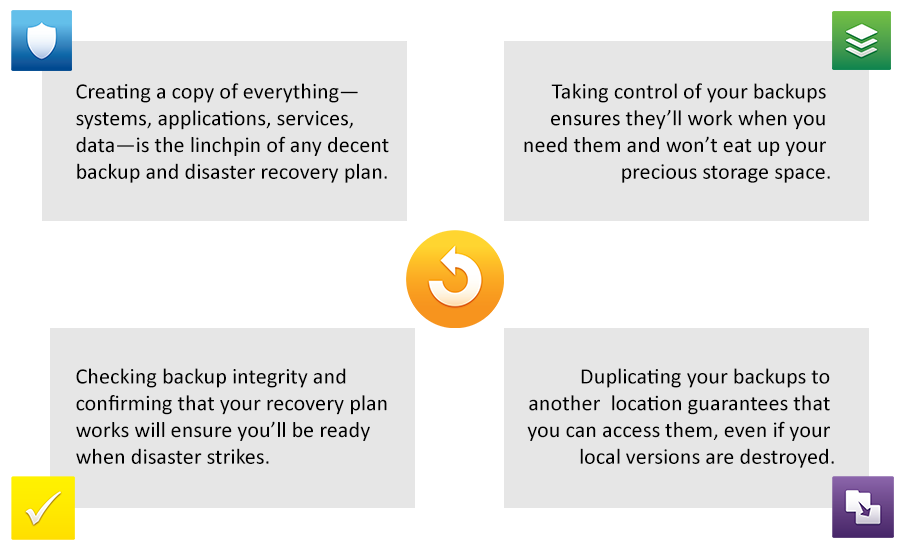 Frequency and Length of IT Disruptions
No matter how big or small your business may be, reducing the frequency of disruptions and getting your systems up and running quickly to minimize the "time" in downtime makes a big difference to how much these incidents actually cost.
According to a 2012 study by Aberdeen Research Group, organizations with the most frequent IT problems (4.4 per year) also took the longest (9 hours) to get up and running each time there was a problem. The organizations with the least amount of disruptions had a mere .3 occurrences each year, and were up and running in under an hour.
Conclusion? It pays to ensure you have a business continuity strategy that best suits your organization, and can get you back up and running as quickly as possible.
More Technology Means Higher Costs
The more dependent a business becomes on technology, the more expensive an IT service issue becomes. As many businesses increasingly automate everything from order entry to communication and file management, the Aberdeen Research Report found the costs resulting from technology system malfunctions have risen 38 percent between June 2010 and February 2012.
While your business becomes more efficient and processes become more streamlined thanks to technology, remember to update your backup and disaster recovery processes to reflect any changes or recent expansions. This will help reduce downtime when it next occurs.
Preparing For Network Downtime
Analyse Costs: Investing in a service that is inexpensive but doesn't provide for every contingency that the business needs will result in recovery failure. Only by choosing a solution that meets the needs of the business will a company be able to see any return on investment from the service when disaster strikes.
Train Employees: It is vital that employees be trained in how to use whichever solution is at hand, whether it requires days or minutes of instruction. Without training, costly mistakes can work their way into the system, reducing your disaster recovery system's effectiveness, or cancelling it out entirely.
Test Your System: Not only must a business invest in disaster recovery software solutions to ensure that its data is backed up and recoverable, but it must also make sure that the system works properly through thorough and frequent testing. Different solutions offer varying methods, and choosing the best one for the company requires the business to examine how often and efficiently it needs its testing to be.
While some businesses prefer in-house recovery systems and others prefer cloud or hybrid systems, it is abundantly clear that every modern business should have a disaster recovery system and disaster recovery plan in place, before it is first needed.
If you'd like to find out more about how Kogo can support your business in its disaster recovery efforts, you can visit our disaster recovery and business continuity landing page here – StorageCraft Backup Solution Overview