Kogo receives StorageCraft Gold Partner Status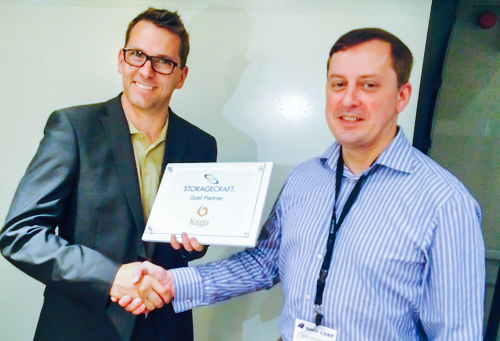 CORK, Ireland September 2015 – StorageCraft Technology today announced that Kogo received Gold Partner status as part of the StorageCraft Partner Program. Based in West Sussex, Kogo achieved Gold Partner status thanks to its high volume sales, technical expertise and continued commitment to providing award-winning StorageCraft backup and disaster recovery solutions and services.
"StorageCraft is one of the most trusted names in the backup and disaster recovery market with a global network of partners," said Matt Molloy, StorageCraft's channel account manager. "We understand that our success depends on our partners and through our Partner Program we provide the tools necessary to ensure our partners are as profitable as possible. Partners who receive Gold Partner status are among the best in the world in serving the backup and recovery needs of their clients."
Managed service providers and value added reseller partners who achieve Gold Partner status receive extra support and services as a reward. Some of these benefits include: free software, product and sales training, an assigned StorageCraft account manager, access to StorageCraft technical resources and training, and lead sharing.
Rob Holman being presented with the Gold Partner plaque at the StorageCraft Sales & Marketing conference
By signing up to the StorageCraft Partner Program businesses are able to generate new opportunities and increase profits through a long-term relationship with StorageCraft. Partner Program participants have access to tools and resources, including the StorageCraft Partner Portal, that will allow them to be successful StorageCraft backup and disaster recovery solution providers.
For more information about the StorageCraft Partner Program in Europe, please visit http://www.storagecraft.com/eu/partners/partner-programs, email [email protected] or call +353 21 237 3500.