From Trainee Car Mechanic to MD
Kogo asked Annie Dixon of Writing and Blogging to interview Martin Bannister following his attendance at a reception at 10 Downing Street.
It was my pleasure to be asked to interview Martin Bannister, the Managing Director of Kogo, an IT support company based in East Grinstead, West Sussex.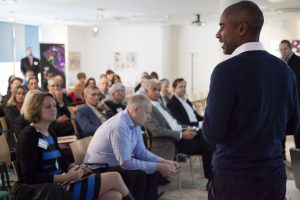 Martin had recently joined over 100 men and women who had been selected to attend a reception hosted by Prime Minister David Cameron on 8th October at 10 Downing Street to celebrate Black History Month. All had been picked for their entrepreneurial skills and are regarded as inspirational leaders and role models in their chosen fields by their fellow business colleagues.
I wanted to find out why the members of the Sussex Chamber of Commerce had put Martin forward and to find out more about the event and also Martin's plans for the future of his company Kogo.
I was immediately struck by the humility of the family man I was speaking to and how easy he was to interview. I was talking to a driven man who has been spectacularly successful and yet really cares about people, not only his customers but his team and all of those around him. He modestly remarked that his nomination had come as an unexpected compliment.
Martin made an unspectacular entrance to Number 10 coming in via the side door but he felt immediately at home as the policeman at the door was from East Grinstead and both men knew each other. However, he was soon enjoying canapés and a beer and mixing with MPs, sporting legends including footballer Sol Campbell, and other industry leaders similar to himself.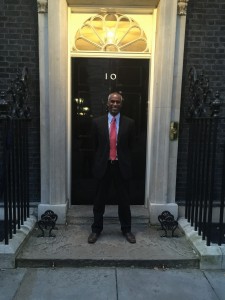 The Prime Minister thanked the African-Caribbean community for their immense contribution to Britain and the vital role that these individuals play in shaping our society. He saw Black History Month as not just about learning from the past but also a time to unlock tomorrow's opportunities. He stated that over the centuries we have built something extraordinary in Britain where people can come with nothing and in one or two generations can rise as high as their talent allows.
The PM left by the side door and Martin had the opportunity to briefly chat with him as he left the meeting. Martin asked David if he had a game plan for dealing with Angela Merkel the following day, the response was he intended to bake a football cake!
Martin left school to become a car mechanic but soon discovered that this was not for him – he really didn't like getting his hands dirty! In 1989 he joined Unisys, a computer company. He had found his niche and discovered he was passionate about IT. He set his sights on having his own company and the Elmhurst Group evolved into what is now Kogo.
Today Kogo employs 19 staff and is the largest IT support company in East Grinstead. Not bad for a company that started with 1 man and an administrator!
Martin only sees the company growing marginally in terms of numbers of employees as he is keen to maintain the company's reputation as "the best out there". The current premises are only suitable for another half a dozen staff and there are no plans to find alternative larger offices at this present time. Martin knows all of his staff and that's the way he wants to keep it.
Kogo is constantly reviewing projects and technologies for its clients as it makes the IT decisions for them and wants all products tested so that they are right for the customer. If a client is considering a new technology, Kogo will ensure that it is right for the company and if it's not, they will advise them.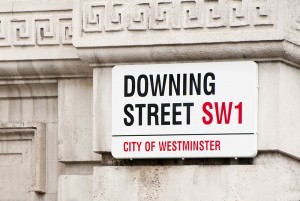 Martin is very hands-on and knows his customers. His staff are trained to understand what is critical to a company and offer tailored support. Training is ongoing and that's the way it has to be to keep on top.
Kogo is steadily growing and the order books are healthy although everyone is understandably still keen to help new customers who want the considerable expertise and personal touch that Kogo offers.
It definitely is exciting times for Kogo and with Martin Bannister at the helm, I can only see further success for his company as it helps more and more businesses with their IT support.