Kogo Limited Earns Respected Technology Industry Business Accreditation
CompTIA Accredit UK Trustmark™ Plus signifies ICT business excellence
East Grinstead, West Sussex – 04/01/16 – Kogo Limited, a leading IT Support and Managed Service Provider announced today it has received the CompTIA Accredit UK Trustmark™, a respected industry credential that signifies business excellence within the Information and Communications Technology (ICT) industry
"Earning this accreditation identifies Kogo as a business that meets or exceeds the best business practices the ICT industry has to offer," said John McGlinchey, vice president, Europe and Middle East, CompTIA.
The CompTIA Accredit UK Trustmark was developed by CompTIA, the non-profit association for the ICT industry, in collaboration with industry experts and leaders, to identify companies that demonstrate the ability to develop and deliver top quality ICT solutions and services.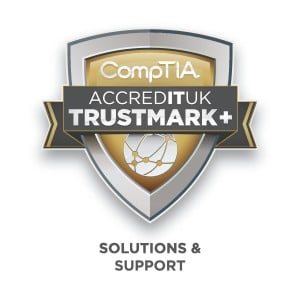 "When we at Kogo undertook the assessment I didn't realise how much of a help it would be in ensuring we did things properly. We strive to perform at the very highest level and this process has improved the way we operate." said Martin Bannister, Managing Director, Kogo Ltd.
The CompTIA Accredit UK Trustmark+ requires its holders to adhere to a stringent set of industry standards. It was developed with support of the world's leading technology companies, and is only awarded to those organisations that meet each specific requirement.
To earn the accreditation, Kogo was independently audited by ICT industry experts, who reviewed the company's policies, capabilities, practices, and procedures. The company was evaluated on organisational management, company direction, business generation, service delivery and operations, and customer relations.
Visit CompTIA Accredit UK Trustmark to learn more.

About Kogo Limited
Kogo is a leading provider of managed IT infrastructure services to a wide range of SME & corporate companies, retail, manufacturing, healthcare providers, financial/legal institutions, and distribution hubs both national and international. Kogo, established in 1998, are based in East Grinstead in West Sussex. Kogo provides tailored support packages to companies to ensure they match customer requirements from prepaid support hours to 24 hour, seven days a week support contracts. Visit www.kogo.co.uk or follow Kogo at www.facebook.com/kogoltd and twitter.com/kogoltd
About CompTIA
CompTIA is the voice of the world's information technology (IT) industry. Its members are the companies at the forefront of innovation; and the professionals responsible for maximizing the benefits organizations receive from their investments in technology. CompTIA is dedicated to advancing industry growth through its educational programs, market research, networking events, professional certifications, and public policy advocacy. Visit http://www.comptia.org/home.aspx or follow CompTIA at http://www.facebook.com/CompTIA and twitter.com/comptia.
Contact:
Martin Bannister
Kogo Limited
13-21 Cantelupe Road
East Grinstead
West Sussex
RH19 3BE
Tel: +44 (0)1342 333000
Email: [email protected]