We're proud to announce that Kogo Ltd has become a business partner for Sage 200 and Sage 200 Extra Online.
With 30 years of expertise in accounting software, Sage have designed their next generation of online products to give you more freedom to run your business online, accessing critical information anywhere, anytime; and Kogo fully endorse this direction.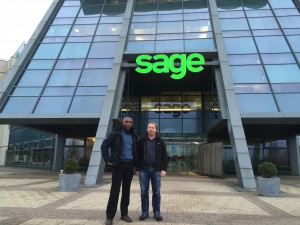 Sage has developed new feature-rich solutions for businesses wanting their accounts in the cloud, even those with complex requirements. We know that software is vital to running your business profitably, and we totally believe that this generation of Sage 200 Online is here to help you deliver a better Return On Investment (ROI), make your business more profitable, and give you more mobility, flexibility, and security in running your business.
Sage 200 offers straightforward online account software and Sage 200 Extra is a cloud based business management solution for growing businesses that want more than just accounting software.
The flexibility of Sage 200 and Sage 200 Extra Online means it can cater for businesses with around 10 to 200 employees and up to £50M turnover, across all business sectors.
Sage 200 and Sage 200 Extra Online deliver a greater depth of functionality for more complex businesses and you can pay monthly, enabling you to get up and running quickly.
Sage 200 Online brings together your business accounts, projects, stock traceability, timesheets, and expenses all in one system. It gives you the ability to track your costs, manage your data, and allocate expenses to specific jobs.
Plus, Sage's new interactive dashboards for sales, purchases, sales orders, and financials give you an even greater view of the health of your business. Combine Google maps, charts, and graphs or use Excel reporting for extra analysis of data.
Hosted on the Microsoft Windows® AzureTM platform, Sage 200 Online and Sage 200 Extra Online provide you with the security you need to sleep soundly at night.
Cloud Computing – The world is changing
New technologies are defining the way you run your business. Many businesses are using mobile technology, or moving their IT to the cloud. But what is cloud computing, and why has it created such a buzz?
When you use cloud computing, you access your company data and applications online – meaning it is available anywhere and at any time. Cloud computing means that instead of IT being equipment and software you buy and own, it becomes a service, or set of services, you pay for each month.
Some companies use the cloud for practically everything, others use it for specific business functions, such as helping their sales team log leads and keep track of calls whilst out in the field.
However a business chooses to use the cloud, it can bring extra flexibility, mobility, and security to their company, and that's why it's worth investigating.
The world is changing. More and more organisations are putting their whole business in the cloud and going online, from their front end processes to their back end systems. That's why Sage has spent the last few of years creating the next generation of products to ensure that when you're ready to move to the cloud, Sage are ready to take you there.